Fashion + the New Aesthetic (2.1)
BusinessOfFashion.com asked me to write about what New Aesthetic means for fashion, published on 16th May as Is Fashion Ready For A New Aesthetic? 
In the process of writing it became clear there were two quite different audiences: a fashion audience seeking an introduction to a design trend, and the theoretical, mutually-referencing New Aesthetic discourse itself. The BoF article was geared towards the former.
Digital culture is to me about process and transparency. Remix everything. Release early, release often. Always in beta. In that spirit, here's another version of this blog post oriented towards to you, Twitterati. Enjoy, tweet, reblog…
*
Instagram, Barbour and vinyl records. Moustaches, gin and vintage dresses. The biography of your potatoes lovingly detailed on chalkboard signs at Whole Foods. As Russell Davies puts it, "I think most of Shoreditch would be wondering around in a leather apron if it could. With pipe and beard and rickets."
For the last five years, the stylistic purview of much of the creative class in London (and Brooklyn, and Berlin) has been curiously backward-looking. Perhaps in reaction against economic uncertainty and technological change – what sociologist Zygmunt Bauman calls 'liquid modernity' – there has been a retreat into retro and nostalgia, emulating the signifiers of what we hope might have been simpler times. Older brands and products offer a sense of permanence and reassurance based in memories from our (real or imagined) childhoods.
Yet technology is still central to how we consume this nostalgic aesthetic: we share 'authentic' experiences on Twitter and Facebook, let Foursquare guide us to the latest artisanal coffee roaster, or use Instagram to rescue our snapshots from the "future shock" of instant, costless digital photography (Verdone 2011).
In contrast, the New Aesthetic seeks to address the relationship between technology and visual culture head-on.
Over the last year, a group of London designers have explored the parameters of this relationship through both found images and original work. Net artists making animated GIFs to glitches in Google Maps. Photographs from military drones in Afghanistan with supra-human vision. Techno-organic forms of contemporary architecture betraying traces of the specific CAD programmes used to design them. United Nude's Lo Res shoes.
All explorations, one way or another, of a "robot readable world". The designer Matt Jones asked, "What if, instead of designing computers and robots that relate to what we can see, we meet them half-way – covering our environment with markers, codes and RFIDs"?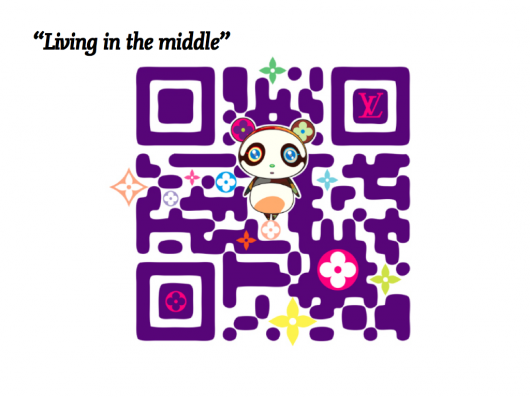 The New Aesthetic is artistic production oriented towards this other, machinic audience – recognition that, in the future that's already here, our human points-of-view are no longer the only agencies we must acknowledge.
In such a world we cannot talk of digital 'versus' physical. The New Aesthetic is the argument that a 'digital aesthetic' means nothing given that every aspect of design is mediated through digital technology. Instead, as James Bridle noted, "The rough, pixelated, low-resolution edges of the screen are becoming in the world." This transference was something he wanted to document.
The New Aesthetic was born on 6th May 2011 with a blog post by Bridle – a London-based publisher, writer, and technologist. A Tumblr followed to collect examples of this "eruption of the digital into the physical" – and the ways artists were reacting. Bridle spoke at the Lift conference  and Web Directions South, before his panel at SXSW Interactive in March 2012 brought the concept to wider attention.
Speaking under the heading "The New Aesthetic: Seeing Like Digital Devices", Bridle was joined by four friends and collaborators who had become involved as the project developed. Joanne McNeil (Rhizome magazine) spoke about the New Aesthetic's art historical context, Ben Terret on its relationship to commercial visual culture, Aaron Cope on drones and new geographies  and Russell Davies on the New Aesthetic and writing.
This excited a lot of people, not least sci-fi futurist Bruce Sterling, who riffed on the topic in his final SXSW keynote speech and two subsequent essays on WIRED.com, affirming the New Aesthetic as a significant cultural moment. One thing particularly bothered Sterling:
"Although SXSW people do look chic, it's a rather retro look. They don't actually look very futuristic. I would suggest, when you come back next year… come back in robotvision glitchcore."
Yet Sterling's call for "futuristic" fashion seems paradoxically retro – the word implies 1960s Paco Rabanne, or 1990s sportswear neons or minimalism. More than other design disciplines, fashion is engaged in an intense dialogue with its past.
"There's so little innovation in fashion in its current state", notes fashion blogger Susie Lau of Style Bubble. "You can't invent a new skirt, a new hemline, a new colourway." Instead fashion revives and recycles the past; from Burberry to Barbour, heritage is the most contemporary business model.
Here we look for something different: a particular way of engaging with the present. Which fashion designers, image-makers, magazines and websites might be producing something we can call New Aesthetic work?
i. Pixels and voxels
When digital imagery is translated into physical form, low resolution pictures show their rough, serrated edges. This pixelated imagery appears widely in fashion, from Preen's Spring 2012 abstracted florals to ASOS t-shirts. In three dimensions, Gareth Pugh and United Nude visually borrow from computer games with their blocky geometries referencing voxels – volumetric pixels once used in constructing computer game environments.
Pixellated imagery is something New York photography duo Reed/Rader have worked with extensively as the leading exponents of animated GIFs. Earlier fashion stories such as 'Pow' are explicitly 8bit, with an aesthetic they describe as "lofi, arts and craftsy collage."  They acknowledge, "There's a nostalgia there of course, something we both grew up with as children of the 1980s."
But is this New Aesthetic or just retro? Susie Lau of Style Bubble notes that pixellated fashion is often "another kind of nostalgia, a lo-fi way of looking at digital aesthetics. No digital images are really that pixelated any more."
But Reed/Rader are moving on: "In 2012 computer games are photorealistic – twenty years ago they were just blocks." They are currently working on a new project called Pyramid Hill, a 3D world using the Unreal Engine (a computer game-building platform) that extends their videos into an immersive, interactive environment. In the last few weeks they've been filming video textures and models for insertion into the digital world – a very New Aesthetic blurring of the boundaries between material and virtual.
What will they do next? Reed/Rader see vast possibilities: "Even in the last couple of years you've got the Microsoft Kinect, $120 and it's an infrared 3D death-camera fully accessible to the mainstream." I can't wait to see what they create with that…
ii. Digital camouflage
If the New Aesthetic is about "seeing like a machine", this suggests two strategies: adapt, or hide.
Hiding has received recent buzz in the format of CV Dazzle: make-up patterns that disrupt computer facial recognition algorithms. The key technique lies in "altering the contrast and spatial relationship of key facial features" through asymmetric make-up, hair styling or accessories. DIS magazine has covered this in the photo essay 'How To Hide From Machines', cataloguing the radical looks required for technological invisibility in what DIS calls "The perilous glamour of life under surveillance".
But the much more mainstream approach of adapting to digital vision through "HD-ready" cosmetics  should also be flagged as a New Aesthetic moment. Foundation coverage that looks 'natural' in person is now no longer good enough for the cruel eye of HDTV: the new digitally-mediated viewer demands hyper-reality.
iii. 3D printing
Iris Van Herpen has made surely fashion's most beautiful use of digital imaging technology with her Photoshop-designed, 3D-printed polymer dress. As something impossible to draw or construct by hand, we are confronted by its digital origins, yet its inspiration in organic forms creates a sense of naturalness – a very New Aesthetic tension.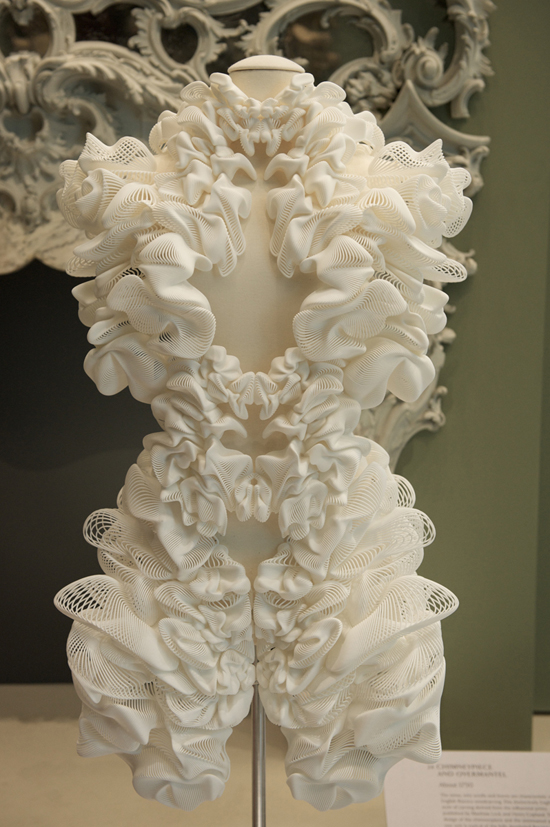 While this is was a one-off couture piece, Susie Lau notes that 3D printing "is fast becoming a viable way of producing really small samples" for innovative shoe designers– an opportunity to experiment that several have taken. Maloes ten Bhoemer's Rapidprototyped shoe is custom-moulded for a perfect fit, but the most definitively New Aesthetic work is surely Andreia Chaves' Invisible Shoe. The shoe's mirrored, jagged form creates what Chaves calls "an obscured optical effect with each step taken" – that is, modern camouflage.
iv. Digital glitch
Throughout the New Aesthetic there is a fascination with how technology reveals itself through moments of error and glitch. This imagery isn't however playing a big role in fashion. Quite the opposite: Mary Katrantzou use digital printing to generate ultra-precise patterns that until recently would have been impossible. Susie Lau comments, "In the fashion industry there's an emotional attachment to hand process, it's very valued," citing examples from Hermes and LVMH. "If you are then championing machines, you emphasise what it does well: price, faultless, mistake-free work."
Australian fashion designer Josh Goot stands out for taking a different tack, each season producing a collection of ultra-digital prints tending towards the cut up, noisy and distorted.
Nonetheless, Goot's apparent glitch is carefully designer-controlled. In contrast, Philip Stearns' Glitch Textiles project uses short-circuited cameras to generate patterns woven into blankets, with hypnotic and beautiful results.
In editorial fashion, Dazed and Confused mines a rich seam of glitched-up image-making. Dec 2010's Daft Punk X Tron 3D editorial by Sharif Hamza is powerfully New Aesthetic in its chromatic misalignment. April 2011 saw Andre Pejic overcome by a digital eruption of blocky metallic and holographic forms (courtesy of propmaker Gary Card and photographer Anthony Maule). And Maurizio Anzeri's geometric textile additions to printed photographs gave a tactile take on optical distortions we're more used to seeing digitised.
Where next?
In his first essay on the New Aesthetic, James Bridle wrote, "We need to see the technologies we actually have with a new wonder." Digital methods of image research, image editing and production have quickly become embedded in the fashion industry, but perhaps the more critical approach of the New Aesthetic will never become widespread. As Susie Lau commented, "It's still not something people are consciously thinking about."
But perhaps that doesn't matter. The apparent futurism of the New Aesthetic is in fact a guide to a future that has already arrived before we were prepared.
The generation starting to arrive in fashion schools have learnt to think about visual culture through the ceaseless stream of appropriated and juxtaposed images curated on Tumblr. Retail brands are weighing up social media-enabled dressing room mirrors, real-time location-based mobile offers, and virtual avatars assessing a garment's fit for the customer's physical body. These all make digital ways of seeing a ubiquitous part of the fashion landscape – the wider cultural impact of the technology is unavoidable.
As a term, the New Aesthetic may be short-lived: James Bridle shut down the Tumblr after one year on 6th May 2012, surprising many. But if the New Aesthetic is dead, the incursion of digital technologies into physical space is only just beginning. Long live the New Aesthetic.
*
With thanks to Vikram Kansara and BusinessofFashion.com for translating between worlds; Reed/Rader for their time, enthusiasm and GIFs; Susie Lau of Style Bubble for another fantastic conversation; and Chris Heathcote's NAFashion Pinterest for collating and curating.